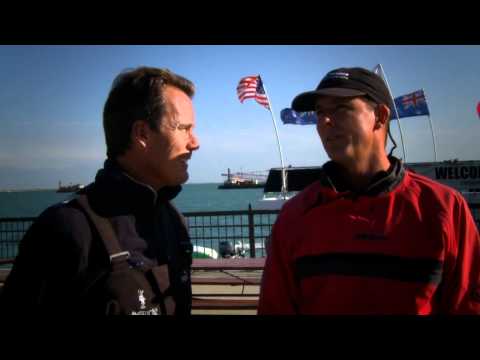 September 30, 2011

Entering day 2 of the Chicago Cup we needed to win out our final 3 races of the round robin to have a chance at moving onto the elimination round. After losing the first race of the day to Bill Hardesty and his team, we were a bit dark but did a good job of regrouping and fighting hard to grab wins from a red hot Taylor Canfield, and rules guru and US Womens Match Racing Coach Dave Perry. After the round robin, the top 6 teams were given the afternoon off, and the bottom 6 were sent back onto the water to battle it out for the two final spots in the quarters, and standing at 5-6 our hopes were still very alive to move onto the next round.

Hardesty led the bottom 6 with a record of 6-5, and us and the Italians were tied at 5-6 and it was assumed that two of the three would move on. We won our first race against the Italians, but after dropping the next race to Sally Barkow, we were now watching the other teams and rooting for them to beat either Hardesty or the Italians, and then having to turn around and race those same teams and do our best to beat them. Wins against Hardesty, the Italians and Tulloch gave us a record of 3-2 in the bottom 6 and 8-8 total pushing us through to the quarters along with Hardesty.


The elimination round begins on Friday with big breeze forecast and we are feeling good about our chances to pull some upsets as our team has experience sailing these Tom 28 in breeze. At the VIP party in the Navy Pier ballroom, the selection process where the top ranked team picks their opponents for the quarters took place and when the #1 seeded French team lead by world ranked #5 Pierre-Antoine Morvan selected our team without any hesitation, some oohs and ahhs fell over the crowd as the motivation to beat someone who thinks you are the easiest team to beat is not hard to find. We will have to be on our game to advance in the best of 5 series, but if we sail well there is no reason why we can't defeat Pierre-Antoine and send his team poodle shopping in Chicago.
http://42marine.com/friends-and-enemies/