UPDATE:
2 Bodies Recovered, 5 still missing
www.al.com's
Michael Dumas covers Saturday's surprise weather system that took the participants and organizers
of Mobile Bay by surprise and wreaked havok on the Dauphin Island Regatta:
image Mike Kittrell/mkittrell@al.com
A day that should have been a sailor's delight, with winds around 15 knots, turned into a nightmare for dozens of participants in Saturday's Dauphin Island Regatta as a surging storm blew across Mobile Bay and wreaked havoc.
At least one person died and four are still unaccounted for as search crews combed a vast swath of the bay throughout the night and into Sunday morning. Families of those missing stayed in a makeshift shelter overnight in hopes that the morning would find them reunited with their loved ones.
As the sun went down Saturday, survivors of the 57th annual, 18-mile regatta were scattered around the Dauphin Island marina sharing stories of how they beat the odds when waves near 10 feet and winds near 60 miles per hour battered their vessels. Still others shivered as the sun set, praising God they were rescued from the waters of Mobile Bay after their boats literally sank beneath them.
Such was the case for Randy Rutledge and Rhonda Morgan Gilreath of Rome Ga.
The two were a mere 15 minutes from the Dauphin Island Bridge, which marks the race's finish, when the weather took a turn for the worst. Not only did their 23.5-foot boat sink in its aftermath, so did the nearby 22-foot vessel belonging to some friends of theirs, also from Rome.
"It was just unbelievable how high the waves were," Gilreath said. "They were just bashing you from every side."
"We knew we were totally lost at sea, we did." -- Rhonda Morgan Gilreath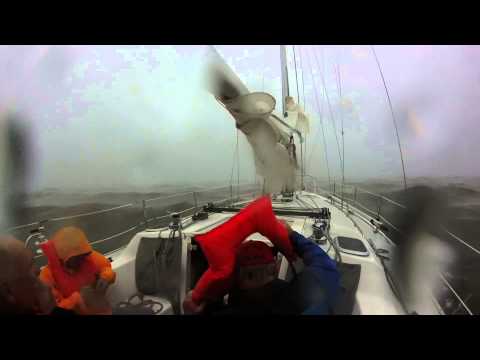 The couple was in the water for two hours before they were rescued, and had to keep each other from giving up as they awaited help.
"We knew we were totally lost at sea, we did," she said.
Robert Luiten was one of a five-person crew sailing a 24-foot boat with his 18-year-old son, Lennerd, when the storm hit them. All five were thrown into the bay by the storm, which was described by one mariner as "almost like a 30-minute hurricane."
Luiten and another crew member were rescued fairly quickly, he said, but it took about six hours until his son was found by rescuers in waters off the north side of the Dauphin Island. The joy of their reunion was tempered late Saturday, however, as two of their crew were still unaccounted for.
"I'm just devastated with what happened," Luiten said.
RELATED: See photos from the aftermath of Saturday's regatta.
Capsizing wasn't the sole danger on the race course for some hit by the full-brunt of the storm, which knocked out power to 23,000 in coastal Alabama and kept parts of Dauphin Island dark into the evening.
Brothers Christian and Bo Brodbeck were blown into the Mobile Bay shipping channel, which allows large vessels to traverse the otherwise shallow body of water and can cause anxiety for sailors even on a clear day. And Saturday afternoon was anything but, with visibility due to the storm reduced to about 50 yards, according to Bo Brodbeck.
And then the GPS failed, which left the brothers and their two additional crew members unsure not only as to where the ship channel was, but also where their boat was in it. It was then the Brodbecks started preparing for the worst, grabbing a cell phone and waterproof radio in case they went overboard.
"I never feared for my life until we got into the channel," Christian Brodbeck said. "At that point a ship can run over you and you don't have a chance to swim."
Luckily, a combination of the boat's motor, along with a slight weakening of conditions, kept them from capsizing and they were able to finish the race.
For Kevin Maurin, president of the Dauphin Island Fishing Rodeo, Saturday started off "perfect," with pleasant winds and a great outlook for the 8-person crew. He said race officials originally cancelled the regatta, only to reverse that course and give a green light after an hour day.
Dauphin Island Regatta participant Kevin Maurin describes the storm that swept through the sailboat race Saturday, April 25, 2015, in Dauphin Island. (Mike Kittrell/mkittrell@al.com)
The 30-foot sailboat they were running was on a westerly tack when Maurin's best friend, and captain, Joseph Arbour saw the squall headed their way and said, "We're fixing to have to hunker down."
"It was a great day, everybody on the boat was having fun," Maurin said. "All of a sudden, within seconds, boom."
According to him, Arbour immediately ordered the boat's two sails lowered, which likely saved everyone from ending up in the water.
"As soon as they dropped, freaking hell broke loose," he said. "I was in the middle of it and it was terrible."
A similar move helped save the day for the crew of Tony Hines's 26.5-foot boat. Blown six miles off course by the wind and waves, about an hour from the finish line, Hines and company dropped their sheets and watched as their mast came very close to submerging, which could have sunk the boat.
And although it was at times at an 80-degree lean, the mast did not succumb, and after a while, the group decided to press on.
"Everybody on the boat was kind of frazzled," Hines said. "We just said, 'Well, we've got to get to dirt somewhere, so let's just go ahead and finish the race.'"
It took them 2.5 hours to finish.
"I'm 50 and I've been sailing Mobile Bay all my life. I've never seen anything like that," he said.
http://www.al.com/news/mobile/index....a_sailors.html