A-Class Cats Fly at Takapuna on Day One of World Champs
The 2014 A Class worlds kicked off on Monday with the practice race, the event drawing a record fleet of eighty one entries from twelve nations.
The sailing world is now totally focused on catamarans, especially foiling catamarans, currently considered by many to be the hottest single handed class on the water. This year both Emirates Team New Zealand and Artemis have sent sailors to the A Class Worlds, this event being the ideal extension for any America's Cup winter training.
Emirates Team New Zealand has entered their two newest team members, Olympians Pete Burling and Blair Tuke, as well as 2013 America's Cup team members, Glenn Ashby, tactician Ray Davies, Pete Melvin, Luc Dubois and Nat Shaver. Chris Nicholson, skipper of the team's CAMPER entry in the Volvo Ocean Race was a late entrant skippering Dean Barker's catamaran after Dean's withdrawal so he can focus on the Extreme Sailing World Series which begins later this month in Singapore.
All images © Richard Gladwell
Artemis racing entered their helmsman Nathan Outteridge.
Today, in typical near perfect Auckland sailing conditions, the wind dropped for the start of the first race turning light and shifty. Australia's Nathan Outteridge seemed to have control of the race when he rounded the top mark with a lead of thirty seconds, before choosing the left hand side of the course where he sailed into a hole and dropped to an eventual twelfth place finish.
Glen Ashby of Australia and Emirates Team New Zealand passed Outteridge to finish first ahead of Great Grand Master Scott Anderson (AUS) and Brad Collett (AUS).
The wind increased slightly for the second race; the gauge showing a 7.2 knot average with gusts of 12 knots which saw those with more aggressive foils making the most of any increases in pressure.
Outteridge dominated the second race providing another masterful sailing display on his downwind leg, and winning from Glen Ashby (AUS) with Steve Brewin (AUS) third. Later Peter Burling (NZL) was elevated to third when it was found that Steve Brewin was black flagged at the start. Nathan Outteridge stated that "the foils used today were aggressive and gave him a bit of extra lift."
In the overall points standings Glen Ashby leads (3) from Scott Anderson (7) Andrew Landenberger (11). Full results are available by clicking this Link.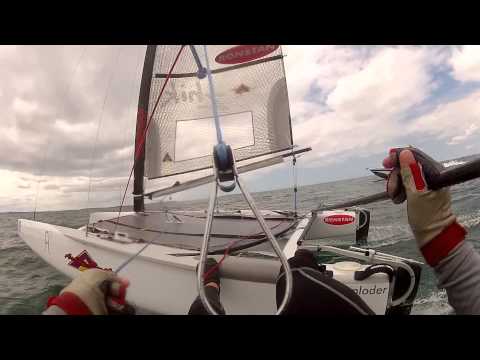 http://www.sailingeventstakapuna.com/
http://www.a-cat.org/?q=node/359