08:00 GMT
MESSAGE FROM DONA :
They told me it would be a difficult Doldrums and recounted incredible stories of boats stranded there for days without wind. Well, in the end it wasn't that bad because we always had some wind.
We were finally on the road leading to the 'South', to the famous Roaring Forties, which mark the beginning of our loop towards Antarctica. But it was too early to celebrate.
Loïck (Le Mignon) had actually warned me that it's a long road and fraught with pitfalls. He knows what he's talking about. He alone has been here about 15 times.
So, we've been sailing for over 20 hours in an oscillating breeze of 4-6 knots. The 23 tons of Spindrift 2 has been crawling along since yesterday like a stubborn giant. The storm front that's over 1,000 nautical miles wide, is blocking our way.
This morning at dawn, we thought we'd got out of it because a consistent wind of 8-10 knots woke us up and got the whole crew excited. But unfortunately it didn't last. Jean-Yves (Bernot, the router) sent us an email. He is optimistic, the exit is not too far away.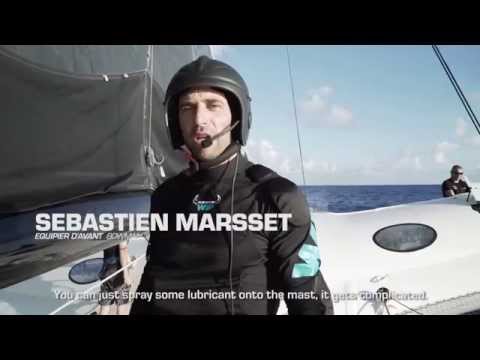 Slowly along Brazil
Start of day 8 at 04 :00 GMT
15 42.04 S et 31 34 14 W
Area: South of Salvador de Bahia
98 miles ahead of the record holder, Banque Populaire V
Distance covered from the start: 4 350 miles
Distance traveled over 24 hours: 304.5 miles
Speed over 24 hours: 12.7 knots
Sail : Mainsail, gennaker
Spindrift 2 Website