Spindrift2 Day 42
Spindrift 2 continues to make rapid progress in the strong north-east trade winds.
The objective: to go around the anticyclone at around 40 W, tomorrow (Sunday).
Then they will have to position themselves in the 35-knot stream of an active depression to the north by finding the right combination of strong winds, but not too strong, and of big seas, but not too big.
It's a balancing act that requires some skill.
After a slow-motion climb up the South Atlantic, and an Intertropical Convergence Zone, which though not very active, was ultimately quite extended, the men and woman on board Spindrift 2 are once again registering high speeds. And it feels good. Spindrift 2 has been making 30 knots now for more than 24 hours, reaching in big seas. The deck is wet and the bows smoking. But above all there is that feeling that we are making progress on the road - the meteorological road map anyway.
As a direct consequence of these tough conditions, life inside the boat is not the most comfortable. Outside of the normal kind of movements you get at this speed, it is the heat that is difficult to bear. The wet conditions that the maxi-trimaran is going through forces everyone to close the portholes, thus depriving themselves of air circulation. Temperatures in the cooking and sleeping areas often exceed 30 degrees, and make recuperation difficult, especially in the middle of the day.
But then again, that sensation of speed and progress towards the finish has many benefits, including accepting these kind of discomforts rather more easily.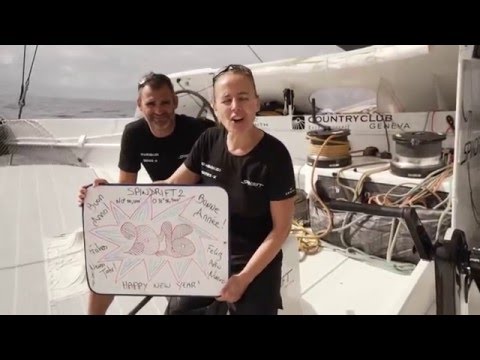 08:00 GMT
Position at 8:00 GMT
12° 74' 4" N and 39° 42' 11" W
202 behind the record holder Banque Populaire V
Distance covered from the start: 24 844 nM
Distance traveled over 24 hours: 671 nM
Average speed over 24 hours : 28 knts
Actual speed : 30 knts
Waves: 3 meters
Wind : Est North-East, 26 kts
1 reef, J2
Tracker