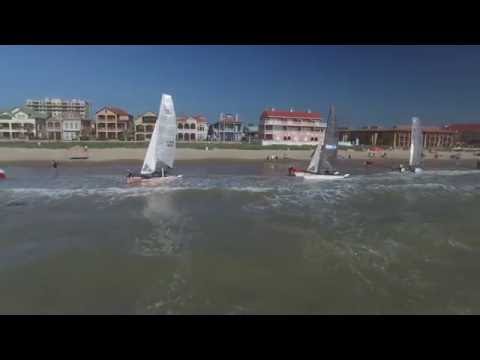 The 2016 GT 300 has begun. Starting at South Padre Island and finishing at Mustang Island.
The Great Texas 300
June 15 - 18, 2016.
300 miles of extreme sailing at its best!
June 15-18, 2016, South Padre to Galveston (300 miles)
Wed, June 15, South Padre Island to Mustang Island (103 miles)
Thurs, June 16, Mustang Island State Park to Matagorda (101 miles)
Friday, June 17, Matagorda to Surfside (60 miles)
Sat, June 18, Surfside to Galveston (East Beach) (40 miles)
Details can be found on GT300 Race Info Page
Contact us at
greattexasinfo@gmail.com
if you have questions.
The Great Texas Catamaran Race is an off-shore beach catamaran race along the Texas Coast. Starting in South Padre Island and finishing in Galveston, the race will cover approximately 300 miles along the Texas coast over the Father's Day weekend. The race will be conducted in four stages with each stage starting and ending on the beach! Read more »
Leg 1 of the Great Texas, Wednesday, June 15th
South Padre to Mustang Island (103 miles)
Leg 1 of the Great Texas kicks off today at 10 am. The forecast calls for a good, stiff breeze at 15-20 knots all day out of the south south east. Under these conditions, the fleet should be moving fast. The race starts at 10 am from South Padre. Expect boats to be arriving in Mustang Island between 4-6 pm today. Of course, you can follow the race live with our tracking or catch the latest news here. Enjoy!
Teams Registered for the 2016 Great Texas:
Team Skipper Crew Class Skipper Home Town
Great Texas 300 Steve Piche Juke Ball F-18 Austin, TX
Sailboat Shop Mike Rohrer Chris Holt F-18 Cedar Park, TX
Fire Water Burn Aaron McCulley Drew Carlyle F-18 Austin, TX
Yo Baby! Shannon Galway Jonathan Atwood F-18 Houston, TX
Jack Flash Collin Casey Josh Grissom F-18 Richmond, TX
Next Generation USA Chris Green Carson Crain F-18 Benecia, CA
Buoy 44 Brian Lambert Will Rottgering Open (Tornado) Ft. Walton Beach, Fl
Solutions Automotive Lee Wicklund David Cerdes Open (F20 Carbon) Seabrook, TX
NACRA Maniacs Jim Tomes Brian Willess Open (N20) El Marage, AZ
Cat in the Hat Larry Ferber Corey Harding Open (N20) Flores City, Fl
http://www.greattexas300.com/