Phil Robertson became just the third skipper and the third different national to win a SuperFoiler Grand Prix race when the New Zealander claimed the only victory on the first day of the Busselton programme.
"We are the first people after Euroflex to win a race and actually cross the finish line," said the victorious World Match Racing Champion Phil Robertson.
Record Point crossed ahead of Pavement, tech2, Kleenmaid and iD Intranet to claim the spoils.
Earlier Record Point was enjoying a comfortable lead in the opening race before Pavement capsized at speed sending her three crew skywards after their trapeze lines snapped.
"To be honest I didn't have time for a thought. All I could hear was Rhys and Dan asking if I was okay. Usually it is me more worried about them – in this it was me that copped the wrath of it," said Pavement's skipper Steve Thomas who was nursing a cut on his hand.
all images © andrea francolini
The rainbow SuperFoiler had been rocketing along at a series record 37.5 knots (nearly 70km/h) before she crashed and went turtle.
"It was pretty wild. I definitely haven't been that fast on a boat before, it was pretty cool," said Thomas who needed ice and pain-killers after injuring his finger.
The position of Pavement's capsize resulted in the abandonment of the opening race much to the annoyance of then race leader Phil Robertson and his crew aboard Record Point who, as it turned out, would have been eyeing off two wins from as many races in a wind delayed program.
"It is massively frustrating to be honest, I think we have gone completely the wrong side of abandoning races and we are calling them off for very lame reasons," said Record Point's winning skipper, "We can all avoid a boat that is upside down on a course, it is a real shame to be honest I thought it was a bit over the top."
Series leader Euroflex was unable to make her way to the start line on Friday after damaging her starboard floatation in training, leaving her World Champion and Olympic gold medallist skipper frustrated by optimistic of a return this weekend.
"It was frustrating to be here just watching the racing. It looks like a lot of fun," said Nathan Outteridge, "We are still hopeful that the boat builders will be able to put it back together. Initially it didn't look possible but they have said they will do everything in their power to get us back on the water this weekend."
Should tech2 or Pavement win this weekend's regatta and if Euroflex fail to repair their SuperFoiler the front runner's lead in the championship will by scythed to just two points heading into the Grand Final in Sydney.
The Western Australian regatta is free for spectators to watch - although VIP Hospitably packages for the solitary event on the West Coast are available with Busselton's historic jetty hosting Leg Four of the season.
Saturday and Sunday's racing will be livestreamed on
www.superfoiler.com
while the series makes its television premiere on 7mate this Saturday and Sunday with the Adelaide leg debuting at 11.30am local time.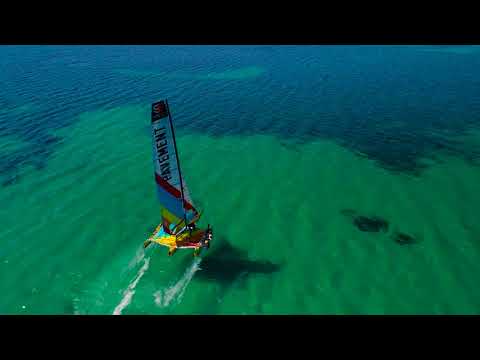 LINKY