ROCKWOOL Denmark and New Zealand are in pole position after topping the leaderboard on the first day of drama-filled racing in Saint-Tropez. But a dramatic incident at the end of racing leaves doubts over whether the Kiwis will compete on day two.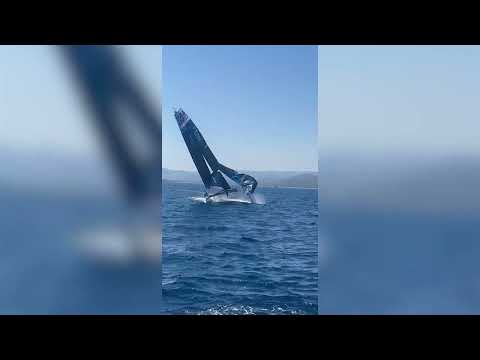 The Kiwis hit the water with a bang, blasting off the start line and securing a win in the first fleet race before backing it up with consistent 6th and 5th finishes. Nicolai Sehested's crew meanwhile navigated tricky gusty conditions and found clear air to finish the day with a consistent 3-7-5 race record.

But the day ended dramatically when the New Zealand wing suddenly collapsed after racing. Thankfully all athletes were accounted for and no injuries were reported - but clear damage sustained to the team's wing leaves questions over whether the team will compete tomorrow.