The crew of the Dutch ship, Eemslift Hendrika, had to abandon its vessel late on Monday, seemingly after a cargo shift caused a heavy list.
Footage released by the Norwegian Rescue Coordination Centre shows some of the 12 crew members jumping into the ocean from the Eemslift Hendrika before being rescued by helicopter. Others were hoisted directly from the deck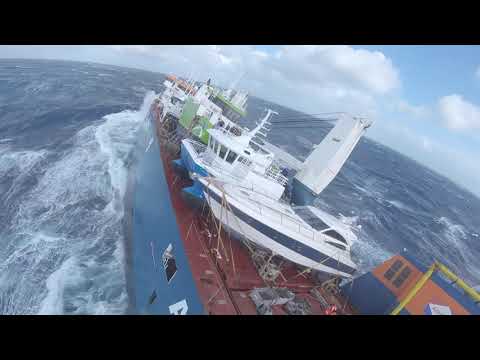 Eight people were first evacuated, while the captain and three of the crew remained on board to try to stabilise the ship.
According to Maritime Bulletin, the ship developed a heavy list after a cargo shift. It says the ship and its cargo of boats on the upper deck is en route from Bremerhaven to Kolvereid Norway, and it is the boats which shifted and caused the heavy list.
Norwegian Rescue Coordination Centre says that, late Monday night, the cargo vessel lost engine power, after the last four crew were evacuated.
The situation is deteriorating further for Eemslift Hendrika. According to NRK, the Norwegian Coastal Administration says that there is a risk that the ship, which has heavy oil and diesel on board, will capsize and sink.
Project manager Hans Petter Mortensholm at the Norwegian Coastal Administration says the situation is worsening as the weather is extremely bad in the area, with waves up to 15 meters high.
"Towing lines have been set out aft of the vessel. As soon as conditions allow, we will try to stop the vessel and stop the operation, so that the vessel can be stabilised," Mortensholm told NRK.
The cargo ship is now 50-60 nautical miles outside Ålesund, and heading in a direction towards Stad.
"If it continues with the drive it has now, the ship will be close to our shore in about a day and a half," says Mortensholm.
"What is important is that we now get measures taken so that we can prevent the vessel from posing an environmental hazard. That is our main focus.
"There is a risk that the vessel may capsize and sink. The vessel has heavy oil on board and diesel."
Mortensholm says that the ship has approx. 350 tonnes of heavy oil and approx. 50 tonnes of diesel onboard.
"These are not huge quantities, but there is still a lot. If the ship capsizes, we are worried that we could get emissions," he says
Marine Industry News