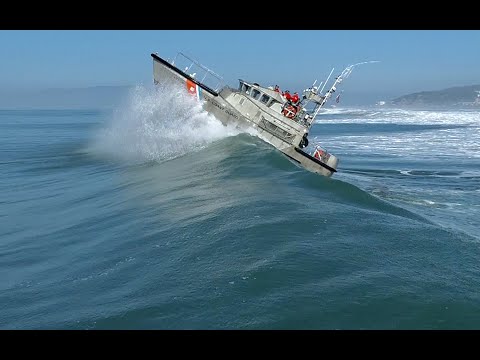 USCG Training of Ocean Beach in San Francisco
These 40' Surf Rescue Vessels are designed to perform rescues in dubious conditions,
and come equipped with two independently sealed motors, so if one get flooded and the engine conks out,
the other can still be utilized to get crew out of harms way... You might ask why the crew is all outside and not inside?
Simply because the are water tight and designed to withstand a roll over, and if you were inside during such and event,
the beating you would take would be merciless!
All the crewman are strapped in with harnesses and floatation, and during these drills, there is always a USCG shore team with rescue swimmers
on the beach, PLUS they always practice in pairs....
The average USCG Crew person does not stay in one place too long, so constantly training is essential to keep crews up to snuff!
Video Jamy Donaldson