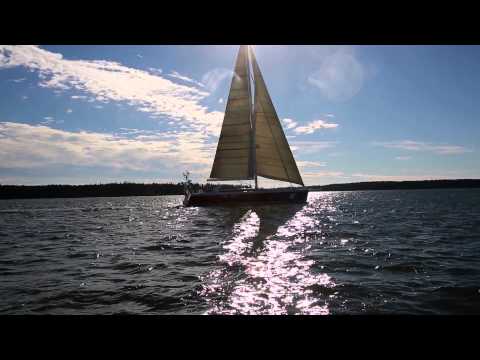 In this first blog I wish to provide some general background information.
My boat is named Kiwi Spirit. I will attempt to break the record of Dodge Morgan, who circumnavigated the globe under sail non-stop and unassisted in 1986 at age 58 on American Promise. I will be 76 when I set forth on November 30, 2013 from St. Augustine, Florida.
My goals include being:
The oldest person to circumnavigate under sail non-stop
The fastest to circumnavigate in a monohull cruising boat
The first ever to circumnavigate non-stop entirely green
Let's Get Personal:
We are of course all special if only to our mothers. Each of us has a life worthy of study but on occasion some of us, fortunate enough to be at a time and place of means, are able to engage in an activity that may be of interest to others. Sailing around the world has been done now by more than a thousand people, mostly via the Panama and Suez Canals with few going around the southern capes including Cape of Good Hope and especially Cape Horn. But sailing around solo, non-stop and unassisted and attempting to do it in record time – via the southern capes, well it's just a handful that have done this. In addition, I have come to it at the ripe age of 76 – no chicken! But as a physical therapist I have largely led a life of wellness, of participation and of adventure. I have been fortunate in my profession of physical therapy, in business - principally real estate and education - and have taken the time to balance and enjoy life with family and sports, including sailing.
Risk and Reward:
While I write with confidence I am well aware that much can go wrong. Far less than half the boats that set out to do a non-stop circumnavigation succeed. Dismasting, keel and rudder damage, running aground and being wrecked have all played a role in defeating the would be circumnavigator. Even in organized crewed events such as the Volvo Ocean Race less than half the boats finish without assistance. I must complete this journey non-stop and unassisted if I am to succeed. Anything less is a failure.
I do not underestimate the possibilities of failures and the risks that I take. But these pages will not focus on the negative. Know that a great deal of planning, design and construction have combined to make this project a success. However, I acknowledge that an element of luck will be needed to avoid striking a semi submerged container, log, iceberg or even a whale. All these can result in a dismasting, loss of keel or loss of rudder. Kiwi Spirit has two rudders and carries a third as a spare and even has a spare mast stored below and ready for assembly. Additionally it has a sacrificial bow that will self-destruct on impact leaving the true bow exposed. If ever a boat was designed and constructed to be a fast and successful cruiser - then Kiwi Spirit is the boat.
Boat Features
Cutter rigged some 88 feet in height - a good height to carry plenty of sail
Retractable bow sprit goes out 7 feet to add yet more sail to the boat's length for downwind sailing
Out riggers to hold the sails out rather than having a spinnaker pole.
Displacement is only 32,000 lbs. - half the weight of the record holder. I shall be light and fast.
Keel goes from 8'7" to 14'9" - this is for increased stability to carry the sails aloft.
Four water ballast tanks again for stability – equivalent of 22 men sitting on the rail
Solar panels, two wind generators and four water generators with energy stored in lithium ion phosphate batteries.
Five water tight bulkheads
Sacrificial bow
Kiwi Spirit is a truly state of the art yacht! The yacht is designed by Farr Yacht Design, specifically addressing my desire to sail safe and fast, while also having the option to transition the yacht in the future to a family cruising platform. The experts at Lyman-Morse Boat Building were employed to construct Kiwi Spirit in Thomaston, Maine. On November 1, 2012, Kiwi Spirit will be officially christened by my wife Catherine and the adventure will begin as I head off for sea trials and one full year of training.
If you feel inspired to follow my journey as I prepare to circle the globe, please follow my blog and enjoy the future tales of adventure, which will be accompanied by photos and video.
www.stanleyparis.com
will soon be a fully functioning website with route map, tracking of Kiwi Spirit, and news of my training from November 2012-November 2013, including the regattas I will compete in prior to the circumnavigation.
Cheers,
Stanley
***********************************************
St. George's, Bermuda
Just a few days ago I headed offshore aboard Kiwi Spirit for the first time, sailing some 800 miles from Newport, Rhode Island to the beautiful island of Bermuda. Following the launch and christening of Kiwi Spirit at the Lyman-Morse Boatbuilding facility, we did test sails and moved the boat to Newport, but these were short coastal trips.
During the sail to Bermuda, there were two incidence, both involving the spinnaker (the large headsail used for light wind conditions). When we first hoisted the spinnaker, it became entangled around the luff rod. Once that was fixed, we sailed for more than two hours with the spinnaker in place and sailing under a slightly reefed mainsail. At 3:00 a.m. it was all hands on deck! The tack line (that holds the spinnaker to the bow sprit) chaffed through and sent the spinnaker flying, now only attached at the masthead and the trimming sheet. We wrestled the sail back to the deck and it was smooth sailing from there.
In 24-hours we covered 238 miles, averaging 10 knots (or about 11 miles per hour). My fastest sail ever! At one point we reached 27.1 knots. This boat is just awesome! We did see another boat and learned it was a 75-footer. They were under sail and also using their engine. We held our own on the Kiwi Spirit (being a 63-footer under sail alone). Wow, do we feel good!
There are of course several things to tweak on the boat after her first major offshore sea trial. But we are a program in motion, and plan to depart Wednesday morning for Antigua. I will do a bit of exploring tomorrow on the island, as it is a place I lived for a few years. Bermuda is also special as it is where I will sail from St. Augustine, Florida next year to start my solo circumnavigation of the globe. I will attempt to sail non-stop and unassisted from Bermuda to Bermuda, challenging the record of American Dodge Morgan set in 1986.
Please feel free to follow our progress via the GPS satellite tracking at:
http://my.yb.tl/kiwispirit
.