Now runnin into their 3rd decade, The Richmond Yacht Club Held their annual Sail A Small Boat Day on Saturday. The weather held and conditions went from light to extra light, with just enuf to fill a kite at time to sculling and kinetics lessons. The event was well attended and had the gambit from El Toros, to Vipers, Hobie Cats to an Etchells. A grass root event, it presents a great opportunity for sailors looking for a new smaller family ride, to complete novices a chance to get out on a variety of craft at no expense. Class reps, dealers, and just dedicated small boat sailors brought out bundles of boats to see, touch, feel and ride. And when the RYC Opti Mid winter's ended just after 1:00 PM, a whole gaggle of kids descended on the party and went straight to it, abandoning their rides for a demo on a newer or different ride.
If you don't have such an event in your community, pull one together, small things lead to bigger things. The wind is free!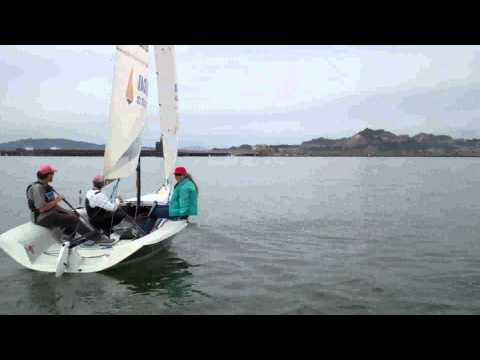 This circa 1970 Tornado made for great double trapezing
Breeze a Plenty for a Viper
There was a waiting list for rides, a good sign interest in sailing hasn't faded!

A great opportunity for kids to bond and develop their independence.
Weta or Nota, Alan Prussia takes the lil ones for a ride
No Bull, little boats are a great, inexpensive way to introduce kids of all ages to sailing!
Chad Frietas of Skiff Sailing Foundation brought a Aussie 18 over. This is the one Howard Hamlin won his 1st to JJ Giltinans on!

80 man hours later, Mitch has turned a once tired looking El Toro into the talk of the dock!

Doris The Bumblebee, one of several 1-14's out on a recruiting mission. Word is they can be had for a song these days!