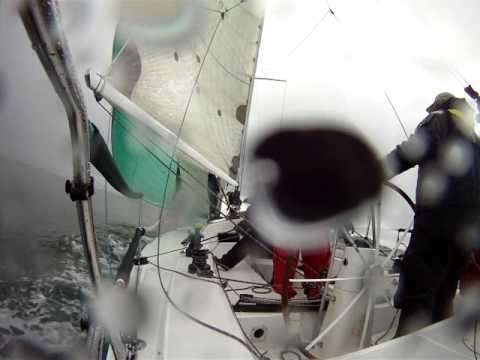 On Board J-120 Mr Magoo during Saturdays Tempest
Regardless of what the overgrown gopher in Pennsylvania saw or did not see back in February, Ole Man Winter's grip on the Nor Cal area is'nt releasing anytime soon. Saturdays racing was for all intents and purposes, wet and wild. South winds rotating in dark cells, with squalls bundled with rain and hail kept the majority of sailors at home, but a few met the challenge.
At the StFYC, the two day Spring One Design J-120s and J 105s played on the City Front, Saturdays report: "Some mis-communication between the RC and fleet, weather marks just outside the harbor mouth, very short course with current running 90 degrees to it and bumper boat action as the fleets mixed it up. Wind South west to south east with squalls coming through pushing the high 20's and lots of wet.
Just J 120's (7) and 105's (18). 3 races run but 1st race in the 120 fleet apparently discarded.
Results
From the CYC' Winter Bonus Race
A breezy day with no small amount of rain sped our fearless baker's dozen around the nine-mile course. At the end of the day, Basic Instinct took the non-spinn gun, and Inspired Environments took the spinnaker gun. Not sure whether those big sails mattered in this race, as the shift to the wind, as well as the unpredictable gusts, made a kite seem like a silly move on most legs of the course.

In fact, kiteless Basic Instinct was first across overall. Special note to Willin' who started twenty minutes late (they had to call on the phone to point out that they were there) but made up almost all of that time. Given that the entire fleet finished in a span of twelve minutes, they did darned good.
Results are here. Trophies to the top four spinnaker boats and top three non-spinnaker boats, mugs to all finishers, extra mugs to kids. Corinthian birthday cake to all.
Results
© Slackwater
The annual Rites of Spring race was held on a wet and wild day on the Bezerekley Circle. Only 16 of 62 boats chose to race, and of those, only 12 finished. Results are shown below.
© Slackwater
©Slackwater
"Holy buckets. Rites of Spring was fine as a race - but the delivery to it from Oyster Point was a nightmare. huge square closely set rollers, and the wind peaked at 31 knots I think we had our fastest speed of the day surfing the waves without sails up. Was rough enough to have my crew barfin.

The delivery home was expected to be tough - we hoped for a break in the wind/squalls but when we hit the bay bridge, the keelboats ahead of us were on their ear, and we were looking at a 2-3 hour slog against the current - so we bailed out and went to RYC. Boat's still there - maybe delivery home tomorrow afternoon."
~ Mitch~
© Slackwater
11 divisions
Dan & Carol Benjamin " Whirlwind" Wylie 30 DH Spin 139 less
Kit Wiegman/ Nathan Bossett "Cassiopeia " Islander 36 DH Spin Phrf 140 plus
Steve Haas/ Jeff Walter " Tesa" Catalina 42 DH 141 and less
Joe Balderrama " Archimedes" Express 27 Mono SH non spin
Tom Boussie "Egret" Tartan 10 Mono SH Spin
Ross Stien Origami Corsair 24 Multihull DH 37 plus
Results
SFYC Rosenblum Regatta
The SFYC's Rosenblum Regatta had somewhat better averages with about a 50% turnout:
2 divisions
Spin 12 boats 8 Finishers Winner Yucca Hank Easom
Non Spin 14 boats 7 finishers Winner K. Elliot and B Smith " Fast Friends"
Results
As forecasted the worst of the storm passed through the Bay Area proper Saturday Night, dropping copious amount of rain, hail combined with lightning and gusts in the 60 MPH range. Thos luck ynough to sleep through it, were treated to a rather benign day on Sunday, with puffy white cumulus over the hills and somewhat balmy sailing conditions, all things considered.
Bella Mente, The RP 69 from RI was dismasted last night
http://bellamenteracing.com/
Not so lucky were the crews of Division A and B in the Newport to Cabo Race who were the unfortunate
recipients of the fury of the storm as it rolled down the coast and met the fleet Sunday and Sunday Night. Bay Area crews on Criminal Mischief, Hula Girl and Invisible Hand have experienced a wide variety of conditions. Hula Girl and I.H .having a day head start missing the bulk of the fury, The Criminals were not so lucky and were among the elite boats in Class A which threw in the towel when conditions deteriorated .
Cabo Thread