This is from past saturday's Moonlight Marathon. It's a cool race hosted by Sequoia Yacht Club. Start is at 4pm from buoys 3-4 off the Redwood City channel. The course goes north around TI (either directions) and back.
The upwind leg was in choppy water, 20-25 knots, but the wind moderated once we got past the airport. Spi went up at the north tip of TI, but it was still gusty on the back side and we struggled quite a bit to bring down the big kite... Mother of all broaches, but we were still doing 6 knots in the right direction with the spreaders in the water, so not too bad after all. From the bay bridge it was a gentle spi ride back to SFO where the wind died for 1/2 hour at 9.30 pm. Our GPS died while we were negotiating San Bruno Shoal, so we had to navigate back to the main channel using the iPhone.
A nice 12-15 from the north picked up again at 10pm, and it was fun to run down the south bay with the depth sounder calling the gybes: "45, 45, 45... 30, 20, 15, 10... gybe!" We finished at 11:03pm with a nice moon setting above Redwood City.
We managed to get aground in the channel, under spi shortly after the finish, but a fellow racer pulled us quickly out of the mud (thanks!).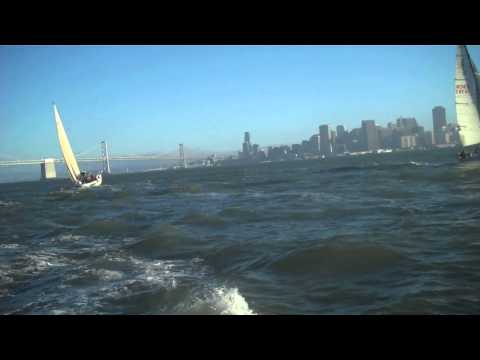 The final spi run in the dark is well worth the long deliveries to and from RWC, and the long beat north.