10 Days in to leg 10, the lead boats of the
Clipper Round The World
fleet still have and average of 3,500 nm to travel, and the trailing boats closer to 4,000 nm.
They have experienced a large amount of difficulties from zero visibility fog forcing a delay in start, medical evacuations for chest pains and dislocated shoulders, lightning strikes...and they are but a 1/3 of the way across! With a very active Pacific still generating sizable weather systems, some of the better sailing and excitement lay ahead.
Some of the best reading is from the
Crew Diaries
A bit more tempered or pasteurized reports com from
The Skippers Reports
The Tracker
shows what lies ahead, and what is coming from behind.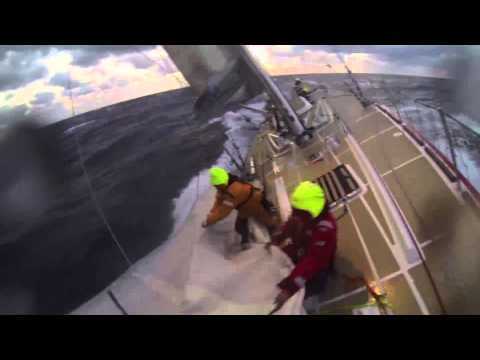 The first six days of our sail to San Francisco have seen variable conditions...to put it lightly! Sometimes in life, you look back 5, 10 years and laugh at your younger self and your silly notions. Well I'm looking back five days and laughing at that enthusiastic sailor eager for 'more wind'. Now to be fair, we'd had to motor for a day to get to wind and out of fog just to start the race. Then the first couple of days had fairly light to reasonable wind.

We spent one night drifting around in fog with about 50 little sparrow like birds clogging up every line of rigging. They were so tame, one landed in a Kirsty's hand and one on Squirrel (Paul Hardy)'s head! That, paired with cracks of lightning and bone shaking rolls of thunder (observed from a watery deck with a giant metal stick on top) made for a surreal experience. But oh no, I wanted more.

And I got it. I came on deck to the windiest conditions I've ever seen...and we've not even reached the Pacific. It was blowing so hard we were barely able to keep the boom from dragging in the water with just the smallest of sails. To provide some context for the stark contrast in conditions, the day before, I'd been leisurely observing the bio luminescence in the water by hanging my head over the side of the deck in a quiet, windless moment. Tonight, the sea was so churned up in the 60 knot gusts that the bio luminescence was flying across the deck like a parade of our own tiny shooting stars. And this was 'leisurely' observed while tethered to the boat, clinging to a winch, with feet up against a grinder to keep from falling off the boat.

We then had a squall come through that literally blew up our wind instruments when it went over 90 knots. It was so windy, we were screaming at each other to be heard, and barely able to tell what the person standing next to us was saying in the pitch black. Grind in?! What?! Grind in?! Okay, I'm grinding in!

And then you do that until enough people start screaming at you to stop. Communication is an art in the best of circumstances, and when the wind is stealing the voice out of your mouth and blowing it out into the night... well you scream and hope for the best.

Then we had to get the head sail down to reduce sail; it was so wet on the foredeck, I was actually floating in water a few times. No, no, boat, that is YOUR job, not mine! My water proof boots don't work so well when water is pouring in through the top as I paddle around the deck trying to lash a sail down.

Tempers can flare and 'I'm trying to (fill in the blank)!' gets shouted a lot in frustration as you battle with wind, waves, darkness, and the awkwardness of being tethered to the boat while balancing on a 45+ degree angle. You work until you're desperately tired, then you must work some more. There's no one else to do it if you don't. You might lose a sail and tear it to tatters if you don't give it all you've got. And then the next task must be done. No time to catch your breath. I've never been so tired and so satisfied in all my life. And when the sun rose, and we made it through the night...two 4 hour shifts of insane up and down weather, we got the news that we'd pulled into the lead...a very welcome piece of good news on our way to bed. And all the screaming? Forgotten over a laugh and a well-earned cup of tea with your fellow warriors.
Stephanie Evans
How many people can say they have been struck by lightning and say they survived unscathed?

Three nights ago it was a cold still night. I'd just dragged myself from the land of nod onto the deck, my eyes barely open. My head pounding was for the fourth day with a piercing headache. My cold was too settled and didn't want to leave me alone. Lightning bolts were lighting up the whole of the ocean for as far as the eye could see. It looked like midday for an instant! The thunder clapped louder and louder, the lightening seemed to be getting closer. Then the whole sea lit up. The sound of fire crackers filled the air. I looked up to the sky and saw fireworks filling the sky.

"Who was setting off a distress flare so close to us?" - that was my first thought before realising our mast had been struck and the fireworks were from the top of our mast!

Immediately most of our comms and lights stopped working. Nobody seemed fazed. We just continued to sail the boat using paper charts and a hand held compass. I guess we were all too tired to worry about what had just happened. Skipper appeared with a smile on his face. "Who turned off all the lights?" So we had no e mail communication for the next three days. I wonder how the Clipper Race reported our direct meeting with a lightning bolt. I guess Jamaica Get All Right is wishing it was them, that'd be great PR eh?

Peter Brumby the superhuman is back on board. The mood is one of optimism.

Skipper spends lots of time on deck with both watches and that has affected the mood on the boat in a positive way. I've been suffering from a cold for the past week and am only just beginning to recover. It has
been difficult waking for each watch, being prepared to helm, do the bow or mast in bad weather when all I want to do is sleep. Thankfully, the worst is past and I reckon I'll be fully recovered in a day or two.

A low pressure system is expected over the following day or two, so tactics have been spoken about and all on board are fully aware of the plans for the next 2 days. Let's hope everything all pays off this time?
Lawrence Lingard, Qingdao
The last few days have been challenging on Jamaica Get all Right for all the wrong sort of reasons. With the deteriorating health of one of our crew and with a potentially life threatening condition we made the decision to divert to Japan to medevac our crew member rather than start to cross the Pacific with him on board Jamaica Get all Right. Embarking on a 5000 mile crossing of an enormous fierce ocean where we would be unable to get access to any external medical help apart from the equipment we have on board our boat and the excellent Praxes Medical telephone advice line with an ill crew member was not a medically safe option so the difficult decision was made to suspend racing and take him ashore.

Although with my "Medical Hat" on I know that this was the right decision to make it was still very difficult knowing that by making this decision I was essentially stopping Jamaica Get All Right from having any chance of getting a good result in this race as the time we would lose (almost 48 hours in total) will be next to impossible to make up again however hard and well we sail now that we have regained racing. The crew have been wonderful and were unanimous in their support of the decision to suspend racing - everyone feeling that the wellbeing and return to health of our very much liked and valued Mick Wood was more important than a good race result. Despite their inevitable disappointment not a single person lost their sense of humour or positivity and crew morale remains good despite the long delay in getting racing again due mainly to inevitable endless bureaucracy from the unexpected arrival of a British 70 foot racing yacht in a Japanese Fishing Port in the middle of the night! Thankfully Mick is now on the mend and will hopefully be well enough to rejoin Jamaica Get All Right in San Francisco.

As boat Medic you expect to encounter infection, physical injury and cuts/bruises and even a broken bone or two however despite the extensive medical kit on board there is no option to do an ECG or X ray or take blood or check oxygen levels etc. You literally have to go back to basics and diagnose by history and examination alone without any of the "luxuries" of diagnostics we have access to when on dry land. If Mick had become more unwell midway across the pacific with 2000+ miles between us and the nearest land mass then we would not have had the choice to medevac him and would have had to manage his illness with the equipment we had on board.

The Clipper Race is a huge challenge to each and every crew member in so many ways. From encountering some of the biggest winds and largest waves we are ever likely to see again or battling with the elements to take down a sail in the dark on a deck that jumps up and down in an erratic and haphazard manner with waves crashing over the decks and over your head. We have seen huge starlit skies and phosphorescence; heard the roar of the wind and waves so loud you cannot think; feeling the "humming" of the hull as you surf down a wave and bobbing slowly in a wind hole watching a bubble pass by you on the glassy molten chocolate smooth sea.

We have all had to carry on when physically exhausted with aching muscles and multiple bruises of different vintages. We have tried to get much needed sleep when your bed moves underneath you or attempt to clean your teeth when hanging on with your free hand and not fall over on the moving platform beneath you. The mental strength needed to change a sail in the middle of the night when you are exhausted and cold and desperate for sleep; the joy of a hot cup of Milo in the night giving you warmth and comfort and for a few minutes making you forget the discomfort. You work in a very close and tight team and each team member supporting each other when the going gets tough - everyone notices when someone is struggling whether physically or mentally and helps them through the tough few minutes until they feel better again. Despite the difficulties of the last few days we are determined on Jamaica to support each other and look after each other and remain upbeat about whatever the Pacific has in store for us.

Don't give up on us Shore team, family and Friends as we are not going to give up either. We will give this race the very best we can despite the challenges we have encountered so far and no doubt will have to face in the future.

Nell Wyatt Leg 3 and 6 (and a GP in my other life)
Nell Wyatt -Jamaica Get All Right