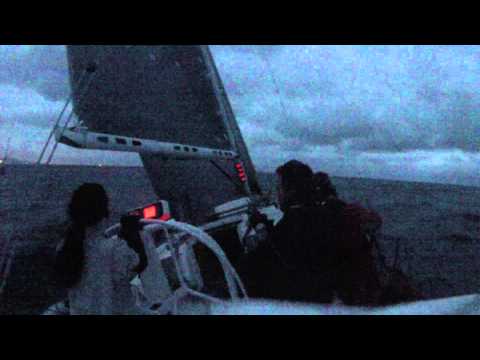 A super secret syndicate rumored to be from around the Point Richmond area have apparentley purchased a slightly used South African built version of the SC 50'. originally "
Nina
", built by Eric Bongers. Currently named
Adrenalin
it is not known if she will keep the name, which is shared by a well known D-Cat from the same area, the names of all the super secret syndicate members (SSS) also shared by the Singlehanded Sailing Society), the agenda for said yacht or whethere there will be cookies...
Stay tuned...
ADRENALIN was originally launched as NINA in South Africa in 1994. Built by Eric Bongers, he took the plans of a Santa Cruz 50 and had modifications made by Dutch naval architect Alex Simonis These included a taller rig and bulbed keel. In 2001 the boat was re-named ADRENALIN and sailed to California from South Africa. The boat has participated in numerous local races as well as the '02 Isla Navidad Race and '05 Newport to Cabo race. In 2006 / 2007 significant renovations were completed at Dencho Marine, including the open transom, new rudder and fixed sprit designed by Alan Andrews along with repainting the hull, deck and spars along with a new Volvo Penta 40hp engine. In 2007 ADRENALIN participated in NHYC's Newport to Cabo race and Transpac. In Feburary 2014 ADRENALIN was hauled and painted.