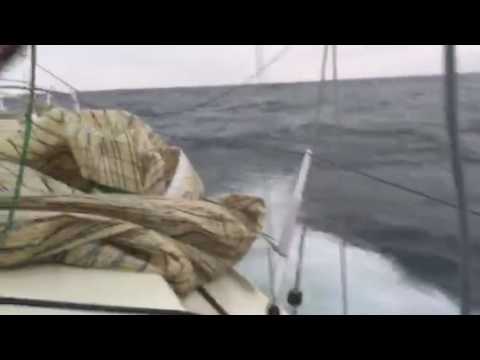 Mark English and Ian Rogers pushing the Moore 24 Mas! to the limit during the 2016 Coastal Cup.
Video onboard Mas entering the Santa Barbara channel just before sunset. Andy said it well - chewing up the ocean. It got even more windy for us after dark before we had a heart stopping park up 2 miles from the finish. We were watching White Trash & Snafu march on us before the wind settled back in from a new direction and we were able to set the #1 and find the imaginary finish line.

Two things stick out - one is how awesome it was to be out there in a small pack of moores racing one design for more than 300 miles (spin cup included that saw Mas and Snafu finish within 45 seconds of each other). Two is what a special experience being in the ocean on these boats is.

Team Mas is going to sadly miss Delta Ditch, too much time away from the family and need to re-stock on hall passes before Pac Cup. Will be thinking about the fleet on Saturday.

Mark English
Hull scratches from barnacles from whale fin...
Sunfish damage to the rudder...
Gilles Combrisson, Karl Robrock, Pete Trachy and Andrew Hamilton post race!