Saturdays OYRA race up to Duxbury Reef then down to the Lightship turned out to be more of a screaming reach-a-thon with a side of gear breaking and sail shredding than forecast. With NWS predicting 15-25 and 8-9 NW swell, crews knew damn well that these spring time pressure gradient events have the ability to ramp up quickly, and quickly they did. Even though a mild offshore breeze presented itself at the start, with boats carrying kites up to the Golden Gate there would be a short period of mellow conditions until the fleet rounded Bonita and conditions ramped up considerably. With wind on the nose and bucking a building NW windswell, the ride up to Duxbury was a cool, ride with reduced sail.
Bob Walden's Cal 30
Sea Star
goes for broke as she enters the Bay
The lead boat around was Dave Macewen's SC 52
Lucky Duck
arriving shortly after noon. In their wake, Zachary Anderson's Shock 40
Velvet Hammer
With both popping a chute and a multitude of grins dashed with whoops of joy and ecstasy. With wind now in the mid 20's and gusting higher, the lead boats gobbled up the 8 or so miles to the entrance buoy in less than an hour, despite have to douse and pinch back up with headsail only to lay the mark. " We followed
The Duck
around the buoy and held off for about 5 minutes or so to make sure we got well enough above them for a passing lane, then set" indicates Will Paxton. "With boat speed in the 15-16 knot range and winds in mid to low teens it was all out toward the Gate, yet it was unclear if we could carry the whole way" But as they near Bonita they received a favorable shift and were able to ride it all the way into the bay, finishing the 31 nm course in a blistering 03:45:27, and 5m 27s ahead of the larger lower rated
Lucky Duck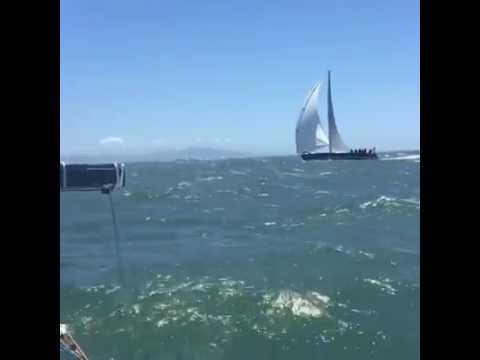 VH & LD drag race to the finish: courtesy James Clappier
A bit further back, Rich Pipkin's J-125
Can't Touch This
worked to make up lost ground that occurred during a headsail change at Bonita. "We were running a little low on bodies, as we are sailing with our Transpac crew, and on of them could not make it Saturday," explains Rich " We could have used an extra 200lbs on the rail too, but on the other hand, working shorthanded is good practice for the Transpac, were we will sail in shifts. Rich notes that without the extra weight on the rail and an extra set of hands, they sailed more conservatively not even flying the kite until 5 or so miles from Bonita. "We were doing 20 knots with just the jib up in 22-24 knots of breeze!"
Some reports from the day:
Wow. Just wow...

The forecasts called for 18-23 with gusts to 30 and did not disappoint. We did not have the guts to fly a kite except for a few minutes right after the start. Then it was one sail change after another, kite to 1, 1 to 3, reef the main, 3 to 4. The swells were big but not unusual. Just a bit messy on the way out and a couple had no back side seemingly leaving the boat in mid air before crashing into the next swell. The reach from Dux to the Lightship was uneventful screaming along on a beam reach. We decided to go back to our #3 but keep the reef. After a white knuckle gybe at the Lightship it was another near-beam reach with lots of nice swells to surf down and plenty of pressure even with a reefed main and small jib. Our top score of the day was about 12.5 knots and top wind measured was 34.4, although our instruments probably added our falling off a wave to the wind speed. We only stuck the boom in the water a couple of times and had decent control, though it required focus and some aggressive steering. My arms and hands still hurt!

Every year in OYRA we usually have 1-2 heavy weather 'gear buster' races. We did not really have one last year but this one qualifies. I notice that 5 of our 33 racers did not finish, interestingly some of our larger boats and some of our smaller boats. Hopefully what caused these racers to turn back was minor. Does anyone have any intel on that?
Jim Goldberg and crew sailed his J-109
Junkyard Dog
to PHRO 2 glory.
"This regatta has been circled on my calendar since last year" Jim said "Last year we got schooled on the the hitch from Bonita when Elan tacked early and got in favorable current and arrived at Duxbury WAY ahead of us. This year we reproduced their move and they seemed to have reproduce our move from last year, this time we arrived at Duxbury well ahead of them and managed to hold that lead to the finish"
Jim reports flying the A3 at the start in an early morning easterly then switched to white sails for most of the rest of day. About 3 hours to Dux in lumpy water, a screaming reach to Lightship, attempted to fly A4 but was being sent to far south so douse and rode the white sails all the way back! Jim and crew would beat Nick Schmidt's E-37 Escapade to the finish line by 31 seconds!
"Ran into Buzz in the RYC parking lot... Condor's top toggle car on their main (that hold their square head up) broke... they were near Duxbury so rounded the mark and hoisted their new A5 for a test run home (skipping the Lightship).

No problems on the Buffalo... just a few rig shaking bangs falling off the backside of a few waves. Had the shy kite aboard but decided to go conservative - the jib top is huge (155%) - and a few 30k gusts as we neared the bridge made us gun shy."
Jim Quanci Cal 40
Green Buffalo
"On Escapade we had a nice start at the pin, then reached out to the center of the bay with the #1.
The flood was building along the city front and there was a tide line just west of the start, so getting out early was important.

We peeled to the #3 after we made it under the gate, losing the lead to Elan in the process, who were sailing doublehanded and started with their #3...

The breeze was switched on at Bonita with 20+kts and keeping the main de-powered was the name of the game. Lots of work for the main trimmer, active driving to keep boat speed up and minimize slamming in often confused chop. Weight on the rail was critical here, we got back past Elan and were both subsequently passed by Junkyard Dog, who was fast upwind.

There was too much breeze at too hot an angle for a hoist at Dux, so a processional jib reach to the Lightship was in order. We watched J. Dog hoist at Lightship and promptly sail off towards Half Moon Bay before dousing. With them as a barometer we decided to forego hoisting until the breeze backed a bit.

After apparent crept aft of the beam we prepared to set, knowing it was the only way to catch Junkyard... So up went our reacher kite. Breeze at this point was 25, gusting to 30. When the boat was on its feet we were fast, hitting 18 knots and rarely out of the teens. There were a few round-ups that were decidedly not fast, but let's not talk about that.

There was some chatter about dousing, but we were reeling in Junkyard Dog at a fair old rate so the decision was made to hold on as long as we could. As we closed in on the gate it became clear that the breeze was not going to back enough for us to clear the south tower. The foredeck was completely awash so a douse into the companionway was called.

Kite down, we had an uneventful jibe at the south tower and went to work resetting the spin gear for the run to the finish. With a nice push from the tail of the flood we quickly came to realize that by the time the gear was reset and kite back up we would be at the finish, so we stuck with the #3 to the line.

Nice job by Junkyard Dog keeping a cool head and not hoisting again, seriously nice job by Jack and John on Elan who were seriously competitive racing double handed in the crewed division."
- Nick Schmidt aboard E-37 Escapade
Chris Kramer and Dirk Husselman sailed the Columbia C32
Six Brothers
to victory in the shorthanded division!
Rick Waltonsmith's Explorer 44'
Round Midnight
take the multihull division!
RESULTS
GALLERY
THREAD