The 2019 Drakes Bay 1&2 Saw 25 OYRA Boats and 21 Single/Double Handed boats define the friendly confines of San Francisco Bay for a 31 nm overnighter
to Drakes Bay. A thick layer of fog and light winds wind minimal wave/swell action made for a peaceful, reflective retreat from the hustle and bustle and into a vastly quiet
boat camping weekend, far away from traffic, mall shootings and the deplorable non stop news cycle. It was a slow ride for sure, with the fastest single handed boat, Greg NelsEn's Azzura 310
Outsider
finishing the trip in a hair under 6 hours and the 1st full crewed boat, Laurence Baskin's E-37
Bullet
dropping the hook after 6:17:25.
After a nice night socializing or not, the boats sailed another slow race to the Gate before getting into the GG Venturi for some genuine real winds to the finish.
Pics from the race courtesy Rich Hudnutt, Greg NelsEn and Jim Goldberg:
Below is a report on the weekend by Michael Chammout whom was racing with one hand on his Beneteau 10r
Mulan
:
"
This past weekend I singlehanded an overnight ocean race, the Drakes Bay Regatta... a combined race joining the Singlehanded Sailing Society and the OYRA, creating a fun mixed fleet of fully crewed boats (OYRA), shorthanders, and of course, our small merry band of kooky single handers! The race starts Saturday morning in front of Golden Gate Yacht Club... out the Gate, turn right and up around Duxbury Buoy to end in Drakes Bay about 32NM north. Everyone Anchors in the bay overnight, then retraces the route back to finish Sunday.

Mulan and myself were itchin' to race, after being on the injured reserve for the past 6 weeks.. .we had a great start, but once out in the deep blue the wind died true to predictions and it was mostly an upwind snail race in 5-8 nt's of shifty breezes.


One of the many advantages of singlehanding is that you have the opportunity to fiddle and fiddle with micro-adjustments of the sail trim and controls to eake out every little tiny micro-knot of speed, especially in a float-fest... and you can sing loudly and out of tune to the radio without annoying anyone!

I actually was doing Great.. getting notes from the Admiruna and friends that my tracking was showing me quite in the lead against others with their tracking on.. but after 5 hours and upon entering Drakes Bay I encountered a huge wind hole and bobbed around for 90+ minutes with the few other leaders, allowing the rest of the fleet to catch up! Still, had a great finish all considering.


It was quite a sight that evening with all the boats anchored in the bay... very beautiful and remote feeling. Accomplished single hander, Robert Johnston graciously allowed me to raft up with him, and we shared dinner and stories, and visited with folks going around by dinghy. The morning was misty and gorgeous in the bay.. I see why people love this race, and why Sir Francis Drake decided to stick around after landing here in 1576! Bob and I got the anchor line unwrapped from under my keel and we're off to the start! The terrific crew of Tortuga Westsail tossed me a yummy blueberry scone, and after and hour postponement we were off.. in a whopping 3 kt's of breeze, barely enough to ripple the water.

And so it went for the entire return.. over 7 hours! Having no spinnaker, I was surrendered to just enjoying the amazing warm, calm day on the ocean. Having been ocean sail racing just a few times, each in extreme conditions.. or fishing with buddies on their power boats, I've never experienced the abundance of sea life, activity, and drama in our coastal waters! I decided to just relax, witness and observe all the life and action around me most of the way back, as I realized that being alone on a sailboat quietly and gently slipping along, the animals aren't threatened and go about their normal activities allowing you to be closely present... tolerated. And boy, on such a calm warm day, were they active!


It was entertaining to watch large bait balls of sardines suddenly boiling the surface, being chased by predators below.. only to be picked off by all sorts of birds and diving pelicans from above. Several times salmon came flying straight out of the water in hungry pursuit! There were whales everywhere, probably saw 20 or so... and it was fascinating to watch them hunting in pairs, circling and herding the bait into big dense balls then methodically mowing through the ball with the poor little fish jumping madly out the water just in front of their path. Several times a whale would surface right next to Mulan and give me a curious eyeball before taking a big breath and gracefully descending. Magical, but whales have bad breath!!

Approaching the bay entrance and inside Pt. Bonita its porpoise playlandia! Dozens of them, chasing fish and seeming to be having a blast and enjoying the beautiful late afternoon. Incredibly athletic and fast.. so fun to watch! The wind picked up on approach and a couple surfed Mulan's wake for a bit..sprinting and leaping through the water taking quick breaths maybe just 10 feet behind, seeming to say faster, go faster!

Got through the Gate, met the South Tower Demon of 28 nt's of wind, but was ready this time and had a screaming finish! 1st place in my division, but I was the only one haha.. But had a great and satisfying race, placing very well overall...and an amazing experience for sure! I will practice and get my courage up to flying the spinnaker myself in the ocean next year...maybe!

Here is an awesome video by Jim Goldberg and his champion crew on Psycho Tiller, which captures the spirit of this event much better than my words! 🙂
"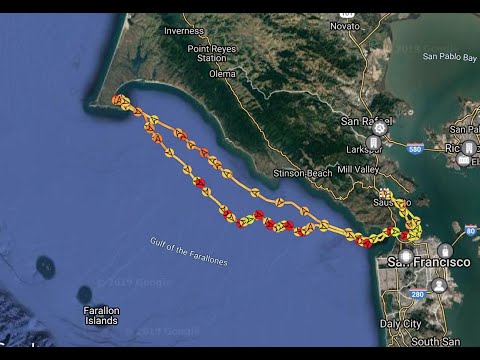 SSS Results
OYRA Results