IF you were caught up doing pumpkin type activities or busy winterizing the abode like some of us and were not out and about this weekend,
here are some things you might have missed:
Randall Reeves sailed into the Bay on Saturday and received a hero's welcome at the Sausalito Yacht Club, even mad the frontg page
of the SF Chronicle AND
CNN Travel
SF Chronicle
************************
On Friday
The Red Bull Heavy Water SUP contest
was ran. Opposite of the the last event, the SUPers started at Aquatic Park and paddled out the
Golden Gate and over to Ocean Beach for a slalom run through the 10-15' breakers.
24 Men and 10 Women signed up for the event only 8 men completed the course and one women.
Men's Results:
1) Casper Steinfath (Denmark)
2) Arthur Arutkin (France)
3) Mo Freitas (Hawaii)
4) Christian Anderson (Denmark)
5) Zane Schweitzer (Hawaii)
6) Kody Kerbox (Hawaii)
7) James Casey (Australia)
8) Fernando Stalla (Mexico)
9)*DNF Itzel Delgado (PER) / Slater Trout (USA) /Tyler Bashor (USA) / Martin Vitry (FR) / Connor Baxter (HI) / Riggs Napoleon (HI) / John Hadley (USA) / J Stephens (HI) / Mark Alfaro (USA)
Women's Results:
1) Terrene Black
2) * DNF April Zilg (USA) / Annie Reickert (HI) / Fiona Wylde (USA) / Shakira Westdorp (AUS)
********************************
Over at the South Beach Yacht Club, the 8th annual
Red Bra Regatta
Had 12 all women boats competing in the South Bay, 6 in with kites and 6 without in light winds of the South Bay followed
by a hootenanny at the SBYC !
RESULTS
************************************************
The Single Handed Sailing Society held it's Annual Vallejo 1-2 over the weekend, with 44 boats in 7 divisions for
Saturday's Downhill Race
where they enjoyed a nice 15 knot breeze across San Pablo Bay. Daniel Alvarez's
Jetstream
completed the 20 nm course in just 2h 12m 52 seconds and nearly all the boats finished by 14:00, leaving many sailors wandering about in broad daylight in Vallejo.
Sundays
Sundays Return Trip
was longer and slower with a big parkup near
Point San Pablo. With the exception of Terri Smith's Corsair F 31
Kokomo
which finished in 04:38:38, most boats took 6 plus hours to traverse the reverse course,
finishing well after the finish of the Ravens upsetting of the Seahawks in the rainy PNW.
*******************************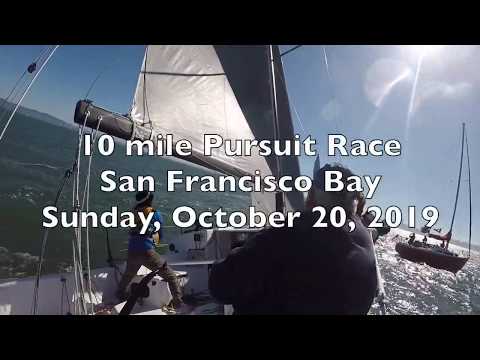 James Goldberg and crew on Psycho Tiller provide some Sunday Pursuit Race action!
Over on the Berkeley Circle, the YRA Oktoberfest attracted 13 boat in 2 divisions for 3 races and lots of german style food and beverage.
2 Buoy Races on Saturday saw Zhenya Kirueshkin-Stepanoff Marin 243
Nice Rack
take 2 bullets in PHRF 1 and Gerry Brown's Farr 38'
Mintaka
in PHRF 2. Sunday's 10nm Pursuit Race was taken by Nice Rack was well! A very productive weekend for Zhenya!
RESULTS
*************************************
The Oakland YC also had an Oktoberfest Regatta with 20 boats in attendance for one 10.7 nm race with 3 divisions
Richard Baker's Alerion 28' Lizabeth won Division 1 by a handsome margin, while George Lythcott's Express 27
Taz
claimed the W in Division 2 and Grant Hayes Hobie 33 Vitesse Too took Division 3
RESULTS