Olympia Yacht Club's Toliva Shoal Race is always a challenge. Sometimes the challenge is making the time limit, sometimes withstanding February temperatures. This past Saturday the challenge was dealing with a serious blow interrupted occasionally by some truly light wind conditions. Bruce Hedrick predicted the blow for those who checked Sailish on Friday evening. Jan Anderson provided the photos below. Results.
We have two reports, one from PHRF 3 class winner Robert King on String Theory, and one from the non-flying sails cruising class winner Dave Knowlton on KOOSAH. Congratulations to all!
String Theory's Race
For Team String Theory, the Toliva Shoal Race is always challenging: the overarching factors are wind and current; this year both were very significant. Our preparations are always race-specific; safety is paramount, with fun and race results close runner ups.
Our pre-race sail selection is based upon our interpretation of various meteorological models. Vessel preparation, including a clean bottom (high five to Ben Bottoms! Ed. Note. - check out Ben's Facebook page), and high-quality sails (thumbs up to North Sails Seattle!) are imperatives for success.
all images ©
Jan's Marine Pix
In Toliva 2020 the wind velocity varied considerably: in some areas of the racecourse we saw sustained true wind velocity of 22 south/southwesterlies, with gusts upward of 30; in some areas of the racecourse we saw 4-5 knots of adverse current; in other areas, the wind was almost negligible!
In the South Sound, the local topography and bathymetry influence every strategic decision: at times we chose to sail conservatively; other times we pushed "the old gal" hard.
Tactically, there are some tough competitors on the water; this year was no exception. Perhaps due to the vagaries of wind and current, "small boats" (e.g., Bodacious, Nimbus, Cherokee, and Chinook) filled the top four slots overall; each well-sailed and worthy of congratulations.
Aside from comprehensive preparations, String Theory's performance is largely attributable to her fine crew (comprised of highly accomplished sailors and long-time mates Gay Morris, Jamie Stewart, Tommy Stewart, Derek Decouteau, Kerry Sherwin, Mike Ellis, Dave Garman, Mitch Nimon, Mark Bunker, and Daryl Fitch), some with whom I have been sailing for more than thirty years.
We each sail with a variety of programs including Stars, Farr 395s, TransPac 52s, and the Reichel Pugh 55' Crossfire. Every winter, Team String Theory gets together for three or four of the Southern Sound Series.
Perhaps the most
important: I want to express my sincere gratitude to a few sailors among
Seattle's finest with whom I have had the pleasure to sail and learn from: Glen
Utgaard, Steve Travis, John Buchan, Carl Buchan, Jonathan McKee, Jim Marta, and
in particular, Bill Buchan.
Ultimately, the gentlemen above have been exemplary role models and significant influences in the success that String Theory enjoys today.
Robert T. King, Skipper S/V String Theory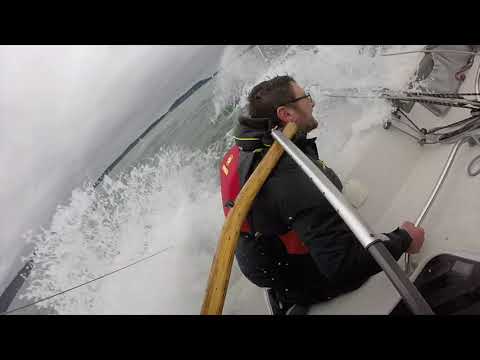 KOOSAH's Race
What a wonderful sailing weekend! Great party Friday night filling the Olympia Yacht Clubhouse!
Bruce's weather report was spot on! We had wind and lots of it! Aboard Koosah we start 30 minutes before the PHRF racers, and since we are non -flying sails, we get to see the entire fleet as they pass us somewhere on the course. Most of them passed us after rounding the McAllister Creek Buoy and heading to the Toliva Shoal Mark. It appeared that the majority of the fleet was able to get up on a plane as they zipped passed us! It looked exciting to see a 40-foot yacht screeching downwind with the spinnaker! Redline, an Atrium 27, was doing around 14 knots near Lyle Point on Anderson Island when their rudder broke at the gudgeons. They lowered the sails and were able to hold their position with the motor but were unable to go anywhere in the large waves. A race spotter boat came to their assistance and towed them back to Zittles Marina. Flying Circus, an Express 37, tore out their mainsail in the heavy winds and decided to withdraw. Demi Moore, a Moore 24, had their light wind mainsail on board, and wisely decided to sail without it.
Almost all the finishers were across the finish line before dark. This does not happen often in this race! The winds were in the 20's and gusting into the 30's the entire day.
After the race, the Olympia Yacht Club became full again as several of the racers enjoyed the homemade soup and Fishtale Ale!
Dave Knowlton, Skipper S/V Koosah
Story
Kurt Hoehne/Sailish.com
RESULTS