Over 40 entries registered for 2021 Transpac
Merlin Makes More Magic In 2019
November 2, 2020 - Los Angeles, CA - As of today, 8 months and 10 days in advance of the first start on July 13, 2021, there are 42 confirmed entries in the 51st edition of the Transpacific Yacht Club's race from Los Angeles to Honolulu, the Transpac. This 2225-mile biennial race is an ocean racing classic, first sailed in 1906 as an idea inspired a decade earlier by Hawaiian King David Kalakaua, and has been an attraction for all avid ocean racers and adventurers ever since.
The milestone 40th entry was made by San Francisco Bay area-based Dave MacEwen with his Roger 46 Lucky Duck. Dave is not new to Transpac: in three previous editions he and his team on his Santa Cruz 52 of the same name (shown at left at the start of the 2019 race) have earned respectable results, placing third in both the 2019 and 2015 editions in the "Fabulous Fifties" group of SC 50's and SC 52's, one of the more competitive classes in the race.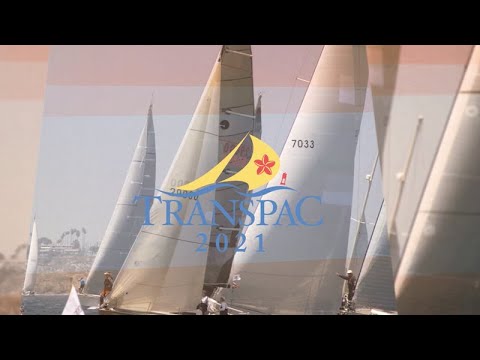 Yet for the 2021 race next July MacEwan has chosen a different platform: an all carbon-fiber flat-out race boat designed in 2006 by Simon Rogers and built at CMI in Thailand, something quite different than his previous racer/cruiser.
"We have stepped up to a faster, but far less comfortable, Rogers 46 for this race, and are excited to get her out in the big wind and waves we routinely see on our way to Hawaii," he said. Indeed, Bob Pethick's Rogers 46 Bretwalda 3 was a full 24 hours faster than MacEwan's SC 52 in last year's 50th edition Transpac.
MacEwen is looking forward to this: "The Transpac race is for us the ultimate test of boat prep, navigation and sailing skills. We look forward to going up against some of the best talent in the world as we battle our way to the finish line," he said. The Lucky Duck team members have not been named yet, but MacEwen plans to race with eight on board, the same number as on the 52.
This veteran team is like many others who have entered for this cycle: their love of this classic "Race of a Lifetime" keeps them coming back again and again...like Chip Merlin's Lee 68 Merlin, shown at left, that is entered once again to compete in Transpac 2021
Yet this is also a race that attracts many newcomers too: those that have always had Transpac on their bucket list of ocean races and passages. This group includes a wide variety of boat types, from flat-out racers to comfortable cruisers, and with just over 8 months to go they are well into their preparation lists and gathering valuable information on the race.
An example is the virtual Transpac seminar held a week ago by TPYC that covered topics ranging from sail selection strategies to boat prep and inspection requirements to modern marine communications, all led by experienced experts in these and other fields. The presentation is archived on the TPYC website and is available for reply at this link:
https://youtu.be/8zodtHJ1UUA
.
Another is the Weather Routing seminar held earlier this week in the Marine Weather University by world-class navigator and two-time America's Cup winner Peter Isler and Expedition routing software experts Nick White and Artie Means. More information on this is available at this link.
"This is a great turnout so far in this unusual year," said TPYC commodore Jim Eddy. "Regardless, we have a very active and engaged membership that is dedicated to assisting all our entries with what they need to have a positive experience with this race. Whether the entry is full-crewed or double-handed, monohull or multihull, brand new to this race or veterans, our team is dedicated to assist all those who like to compete.
"Sign up now to join us in this fantastic race experience."
https://transpacyc.com