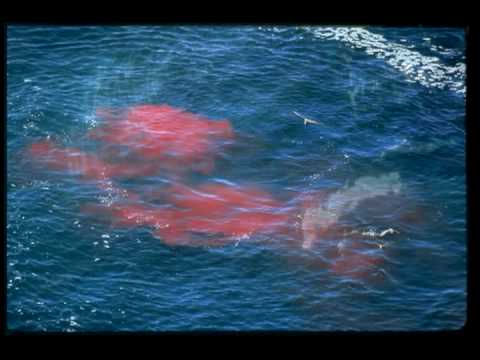 Derek M Baylis is utilized to assist researchers at the Farallones Islands

As October comes to a close and November begins, Stanford scientists along researchers with the
Tagging of Pacific Predators (TOPP)
Tagging of Pacific Predators (TOPP) Farallones Islands Great White Shark tagging program winds down for the year.
The crew of the Derek M Baylis prepares to take a well deserved rest. The hard working 65' sailing research vessel has just completed their 4th full season working with the tagging program, following several weeks working with Oregon State University
mapping the northern end of the San Andreas Fault
, and a full season in Monterey working with the Monterey Bay Aquariums summer education programs.
More on Monterey
© Susie Anderson
The Stacy is 17'.9" inches The fish behind is one of the small ones at the Islands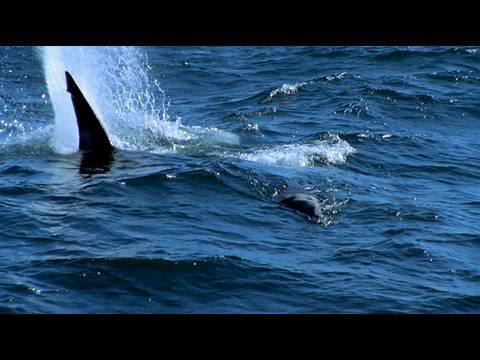 How the researchers do what they do.
The Derek M Baylis has been working with the TOPPS project since 2006. Generally a 3 week commitment
in October, the busiest time for large predator strikes at the Farallones. The permit system for tagging is very strict and
overnight stays are prohibited, which means lots of trip back and forth to the mainland. The Baylis, designed as a sailing
research vessel can reach and return from the islands in just 3 hours using the motor or sails or combination of both with
just a tiny fraction of fuel consumed by a tradition power vessel of same size.
In motoring mode, the Baylis gets a stingy 2 gallons per hour at 10 knots
An average day consists of a 6:00 AM departure from San Francisco, a 3 to 3.5 hour ride and then
6 to 6.5 hours of waiting for some action. While there is always and abundance of wildlife out at the sanctuary,
shark kills on seals, sea lions and elephant seals are not a constant. Also as more sharks are tagged, the pool
decreases, thus finding un-tagged sharks becomes more of a challenge. In 2006, 18 Great Whites were tagged,
this year just 11 volunteers showed up during operating hours. By 3:30 PM, the sails are hoisted and the crew returns
back to the mainland.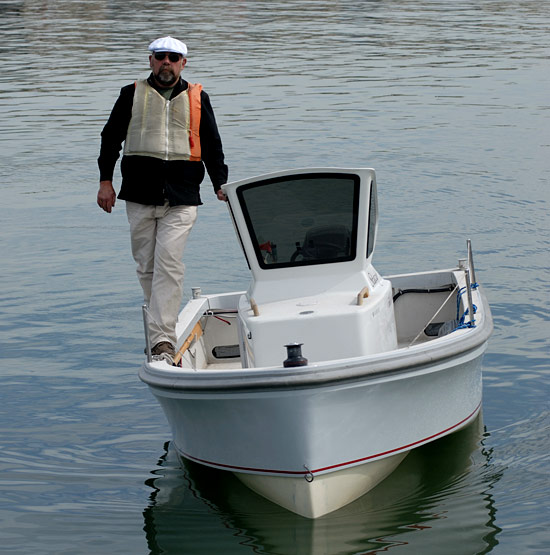 Wyliecat's Dave Wahle demonstrates Stacys inherent stability
The Stacy, DMB's carbon fiber launch, makes a perfect compliment for the researchers and scientists seeking to get close
to the large apex predators. She can be unloaded in about 10 seconds and uploaded in 20-30 seconds depending on sea state. Her stability and low freeboard are ideal for applying tags and tracking devices. The method is to wait for a kill and the
subsequent feeding to subside, then move in as the big fish mellows out with a full belly.
DMB's ample cockpit, removable transom and built in stern hoist allow equipment and small
craft to be easily loaded and off loaded.
Stanford Research Paper
You can check out more about the Derek M Baylis, Stacy and other Wyliecat designs
By going clicky!