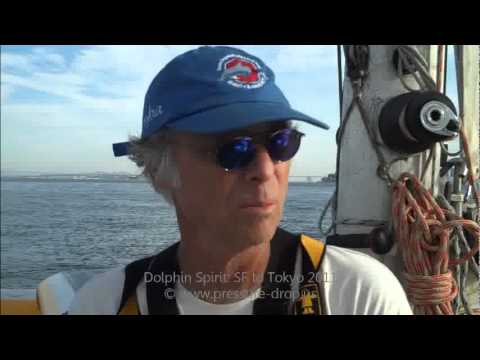 Sailing to Stop The Slaughter
Michael Reppy's Quest To Set SF to Tokyo Record And End Japanese Dolphin Harvesting
At age 65, most people look forward to a nice quiet retirement, relaxing vactions
and a less frantic existence. Marin County's Michael Reppy, a phyiscial therapist by day, seeks to conquer something that has avoided him for much of his adult life.
1. The singlehanded record from SF to Tokyo Japan
2. Seeing an end to the massacre of thousands of dolphins and small whales in a small cove in Taiji Japan in an annual "Drive Fishery"
The Record for the course, approximately 5,700 NM was 1st set by Eric Taberly in 1969 aboard his "state of the art" 35' monohull "Pen Duick", 39 Days. 15 Hours and 44 minutes. The record stayed true until SF Native Peter Hogg drove his 40' Trimaran " Aotea" in 34 Days, 6 hours and change in 1992.
Damiana, the 1st Shuttleworth Design
As a youth, growing up in the Southern California coastal town of Oxnard, Michael read about the feats of these great ocean racers of the 60's and attempted to emulate them, building his own Malibu style outrigger which he would cruise to the Channel Islands with his high school buddies. After graduation from college and building some equity, Michael contracted the build of the 42' John Shuttleworth designed trimaran Damiana, in 1984. He raced her to a 3rd in the 1987 Multihull Transpac and then a 3rd in class in the Singlehanded Transatlantic in 1988.
Nai'a sails outside the Gate
In 1990, Michael commissioned Shuttleworth to design a more modern carbon fiber racing trimaran the 30' Nai'a, Hawaiian for dolphin, representing Earth Island Institutes " Save the Dolphin Project. By 1996 after lengthening the tri to 36' He set off to beat Hoggs 1992 record, and was well on the way to doing just that when she pitch poled just short of Tokyo.
By 2000, Michael had obtained Warren Luhrs 60's mono-hull " Thursdays Child" and readied her for a 2nd attempt. Ironically a chance meeting with some large cetaceans ended the quest after his rudder was broken in a collision with said behemoths in the darkness of night.
Thursday's Child in Yokohama
In 2001, his 2nd go aboard Thursday Child end short again after 36 days, this time thanks to fickle winds approaching the finish. A 4th attempt was schedule then a torn knee cartilage put the quest on the back burner. Michael now in his 60's realized manhandling the 60' Thursday's Child was a bit much and donated her to a Southern California charity foundation.
In 2006 Michael purchased the all carbon 43' Tony Grainger trimaran, then named Spirit of Emu. She was refitted and re-launched in 1997 in San Juan Island and rechristened " Dolphin Spirit" in honor of her mission, to set the record and bring awareness of th plight of the dolphins of Japan and world wide.
In 1991, Michael had seen a covert film produced bay Sam LaBudde, which exposing the killing of millions of dolphins in tuna nets, which was instrumental in the success of our campaign for "dolphin safe tuna". The video inspired Michael to sail for Earth Island Institute to "Save The Dolphins".
The 2009 Academy Award winning film, The Cove exposed the horror of the Drive Fishing Industry happening secretly on the tourist Island of Taiji Japan, where thousands of dolphins and small whales are rounded up into a cove and slaughtered brutally for reasons Westerners find hard to understand, the lucky ones sold off into captivity for the entertainment industry.
http://www.savejapandolphins.org/
http://www.dolphinspirit.org/drivefishery.html
http://www.dolphinspirit.org/mercury.html
http://www.dolphinspirit.org/opposition.html
Michael's goal is to utilize the record attempt and hopeful success to bring much needed attention to the current plight of the marine mammals currently being rounded up in Japan and elsewhere, ultimately ceasing the practice forever.
You can follow Dolphin Spirits Adventures at
www.dolphinspirit.org
There is a benefit concert scheduled for January 15th at the Magic Juju Boathouse
In San Rafael featuring Rambling Jack Elliot if you are in the area and want to rock on for Dolphins!
The Cove Synopsis